Local SEO for your landscaping company is an important component of a successful online marketing strategy for landscaping businesses. Optimizing your website to appear in local search results puts your business directly in front of potential customers looking for landscaping services in their area, allowing you to increase brand awareness and drive more leads. With the right strategies, you can boost visibility and reach more people who are likely to become customers.
Following these steps
Identify Your Target Audience of your Landscaping Business
Keyword research
Optimize Your Website for Local Search Terms
Create Local Landing Pages
Create Google My Business Profile
Leverage Online Directories and Business Listings
Take Advantage of Social Media Platforms
Monitor and Improve Your Online Reputation
Encourage Customer Reviews and Feedback
Identify Your Target Audience of Landscaping Business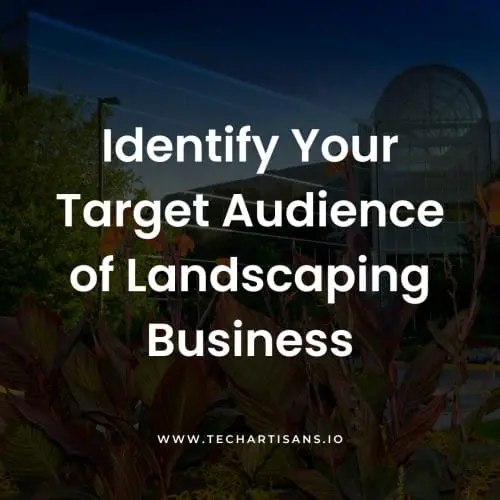 It is crucial to identify your target audience for your landscaping business's success. Understanding the specific demographics, interests, and needs of your potential customers will enable you to tailor your services and marketing efforts more effectively.
Consider factors such as homeowners, property managers, or businesses that may require landscaping services. Additionally, examine geographical locations, property sizes, and landscaping preferences to develop a comprehensive understanding of your target audience. By doing so, you can better connect with your customers and build long-lasting relationships in the landscaping industry.
Keyword research

When it comes to keyword research for a landscaping business based on locality, it is important to think about the specific terms that potential customers might be using when searching for services in their area. To begin the process, consider local labels and identifiers like town names, counties, neighborhoods, and regions. It can also be helpful to think of popular phrase combinations such as "landscaping near me" or "residential landscaping in [town name]".
In addition to location-specific searches, another important factor is understanding what services customers might be looking for. This could include lawn care, garden design, tree trimming or removal, patio installation or repair, and more. By researching popular keywords related to each service offered by the company (such as "lawn aeration" or "garden weeding"), businesses can better understand how people are searching for the type of services they offer and tailor their approaches accordingly.
By leveraging keyword research tools such as Google Keyword Planner and SEO Book's Keyword Tool, businesses may also uncover words and phrases related to their industry that they may not have thought of otherwise. With detailed insights into search volume data and customer intent information, these valuable resources can help businesses hone their approach to keywords in order to reach the widest possible audience without wasting money on irrelevant terms.
Optimize Your Website for Local Search Terms

For businesses providing landscaping services, it is important to ensure that their website is optimized for local search terms. This will help to draw in more local customers who are searching for the services they provide. To optimize their landscaping website for local search terms, businesses should make sure to include relevant keywords and phrases in their content, as well as create pages with location-specific information.
Additionally, they should ensure that the page titles and meta descriptions are properly optimized since these often show up in search engine results. Finally, having an active presence on social media and engaging with customers through reviews can help boost visibility among potential customers in the area. With effective optimization techniques, businesses can make sure that their websites show up when people are looking for landscaping services near them.
Create Local Landing Pages

Creating local landing pages for a landscaping business is an important step to drive more traffic and increase revenue. Local pages are specifically designed with content and visuals meant to capture the attention of people in that particular area who are looking for landscaping services. This content should be tailored to the audience's wants and needs, providing useful information while also showcasing the landscape design services provided by the company.
Additionally, optimizing local pages with keywords related to your location can help you rank higher on search engine results pages, thus improving visibility and driving more potential customers to your website. Local landing pages should also include contact information for easy access and user-friendly navigation to ensure customers can find what they need quickly and easily.
Local SEO for Landscapers: A Comprehensive Guide

In today's digital age, having a strong online presence is crucial for any business. This holds especially true for local businesses like landscaping and lawn care companies. With more and more people turning to the internet to find local services, it's important for landscapers to prioritize their search engine optimization (SEO) strategies.
So, what exactly is local SEO, and why is it important for landscapers? Let's dive in!
What is Local SEO?

Local search engine optimization is the process of optimizing a business's online presence to increase its visibility on search engines, specifically for location-based searches. This means that when someone in your area searches for "landscaping services", your business will be more likely to show up on the top of the search results.
Steps to Effective Local Search Engine Optimization (SEO) for Landscapers

Keyword Research: Understanding what your potential clients are searching for is the first step.
Optimize Your Website: Make sure your website is user-friendly, mobile-responsive, and contains relevant content targeting your chosen keywords.
Google My Business (GMB) Listing: This is crucial for local businesses. Ensure your GMB listing is claimed, verified, and filled out completely and accurately. Include photos of your work, your logo, and all relevant business information.
Online Directories and Citations: List your business in reputable online directories. Make sure your business information is consistent across platforms.
Collect Reviews: Encourage your happy clients to leave positive reviews on your GMB profile and other review platforms.
Local Link Building: Try to get backlinks from other local businesses, particularly those related to your industry. This could include suppliers, clients, or local publications.
Monitor Results: Use tools like Google Analytics and Google Search Console to monitor your website's performance and make necessary adjustments. Keep an eye on metrics like organic search traffic, bounce rate, and conversion rate.
Remember, SEO is a continuous process that requires consistent effort and monitoring. It may take some time to see results, but the payoff in increased visibility and customer engagement can be substantial.
Delving Deeper into Keyword Research for Landscaping Businesses
Keyword research is a fundamental aspect of SEO, enabling landscapers to identify the exact search phrases potential clients are using. Essentially, it is about understanding the language of your target market and aligning it with your content marketing strategy.
For instance, someone in need of a landscaping service might type "landscaping services near me" or "best landscapers in [city name]" into a search engine. If you offer specialized services, such as garden design or outdoor lighting installation, potential clients might use specific keywords like "garden design services" or "outdoor lighting experts".
Keyword research tools like Google's Keyword Planner can provide a wealth of data on popular search terms, competition levels, and search volume trends. By incorporating these keywords into your website copy, blog posts, and metadata, you can significantly enhance your visibility in local search results. Remember to also include geographical keywords – your city or region – to tap into the local market effectively.
The Benefits of Optimizing Your Website for Landscapers

Optimizing your website can have a profound impact on the success of your landscaping business in the digital realm. Here are some key benefits:
Enhanced User Experience: A well-optimized website provides a smooth, easily navigable experience for users. This not only helps visitors find the information they need swiftly but also leaves a positive impression about your business.
Improved Search Engine Rankings: By incorporating targeted keywords into your website content and metadata, search engines can better understand the nature of your business, leading to higher rankings in search results.
Increased Organic Traffic: Higher rankings in search results translate into increased visibility for your business, leading to more organic traffic — these are potential customers actively searching for landscaping services.
Higher Conversion Rates: An optimized website is likely to load faster, display properly on all devices, and have clear calls-to-action (CTAs), which can significantly improve conversion rates. In other words, more of your site visitors become paying customers.
Stronger Local Presence: Including geographical keywords in your website optimization helps you tap into local markets more effectively. This is especially crucial for landscapers, as clients usually prefer local service providers.
In conclusion, website optimization is not just about appeasing search engines. It's fundamentally about serving your potential customers better. They are, after all, the ones who will be using your website to decide whether your landscaping services are the right fit for their needs.
The Importance of Google My Business for Landscapers

Google My Business (GMB) is an essential tool for local businesses, including landscapers. It allows you to claim your business listing on Google, verify your business information, and appear in local search results and on Google Maps. This not only significantly increases your visibility in local searches but also boosts your credibility as a business.
When potential customers search for landscaping services, they will likely trust businesses with a complete and professional GMB listing. It gives them easy access to your contact information, business hours, directions to your location, and reviews from previous clients. Furthermore, GMB allows you to post updates, offers, and photos of your work, giving potential clients a glimpse into your services and capabilities.
Another key benefit of GMB is the ability to collect and respond to reviews. Positive reviews can significantly influence potential clients, and responding to reviews (whether positive or negative) shows that you value customer feedback.
To sum up, taking full advantage of your GMB listing can greatly enhance your local SEO, attract more customers, and provide a significant edge over competitors who do not utilize this powerful tool. Remember, an optimized GMB listing is not a one-time task – it requires regular updates and management to be truly effective.
The Crucial Role of Online Directories for Landscapers
Online directories constitute a critical part of local SEO for landscapers. They not only enhance your online presence but also provide another avenue for potential customers to find your business. When your landscaping business is listed on reputable online directories, it amplifies your credibility and professional image. Such directories often allow customers to leave reviews, further contributing to your reputation. Prospective clients often check these reviews before choosing a service, so a list of positive testimonials can be a powerful tool for attracting new business.
Moreover, online directories can boost your SEO. They provide valuable backlinks to your website, improving your site's authority in the eyes of search engines. This can increase your chances of ranking higher in search results. Furthermore, they often categorize businesses by location, making it easier for local customers to find your services.
In conclusion, a strong presence in online directories can significantly optimize your visibility, enhance your reputation, and drive more traffic to your website – all factors that can ultimately lead to increased business. Remember, however, to ensure that your business information is consistent across all directories to maximize these benefits.
Five Best Citation Directories for Landscapers
Yelp: As one of the most popular business listing sites globally, Yelp offers landscapers great visibility. With millions of users, the platform provides an excellent opportunity to showcase your services, engage with customers, and garner reviews.
Angie's List: Focused on home services, Angie's List holds tremendous value for landscapers. It's a trusted platform where customers actively seek out high-quality service providers and leave detailed reviews.
HomeAdvisor: This platform connects homeowners with pre-screened, local service professionals. Listing your landscaping business on HomeAdvisor can increase your credibility and bring in potential clients.
Yellow Pages: A staple in business directories, Yellow Pages (online version) offers a reliable platform for business listings. It's well-known and trusted by consumers, making it a great choice for landscapers.
Houzz: As an online community dedicated to home improvement and design, Houzz is ideal for landscapers. It allows showcasing of projects, accumulation of reviews, and direct interaction with potential clients interested in improving their outdoor spaces.
The Importance of Online Reviews for Landscapers

In the age of digital decision-making, online reviews hold significant importance for businesses, particularly for landscapers. These reviews serve as social proof, helping potential customers make informed decisions about your services based on the experiences of others.
Firstly, online reviews increase your business's visibility. Most local SEO algorithms, including Google's, consider both the quantity and quality of reviews when determining your business's ranking on the search engine results pages (SERPs). Therefore, having a large number of positive reviews can significantly improve your local SEO efforts.
Secondly, they enhance trust and credibility. Potential customers often regard reviews as unbiased opinions about your landscaping seo services too. A plethora of positive reviews indicates to prospects that your landscaping business is reliable and delivers quality work.
Moreover, reviews provide valuable feedback for your business. They help you understand what you're doing right and where there's room for improvement. Regularly monitoring these reviews enables landscapers to refine their services based on customer needs and expectations, thereby improving customer satisfaction and potentially leading to more positive reviews.
Finally, responding to online reviews, whether positive or negative, is an excellent opportunity to engage with your clients. It shows prospects that you value your customers' feedback and are committed to providing top-notch customer service.
In conclusion, online reviews are a vital element of local SEO for landscapers. They help increase your online visibility, build credibility, provide valuable insights, and offer an opportunity for customer engagement. It's crucial for landscapers to encourage satisfied customers to leave positive reviews and respond thoughtfully to each review to maximize these benefits.
The Significance of Google My Business Reviews for Landscapers
Google My Business (GMB) reviews carry a substantial weight in the realm of local SEO for landscapers. As potential customers search for landscaping services in their area, the number and quality of GMB reviews can significantly impact their decision-making process.
Firstly, GMB reviews enhance your business's visibility. Google's local SEO algorithm takes into account the number and quality of reviews, meaning that a higher volume of positive reviews can improve your ranking on the search engine results pages (SERPs). This increased visibility can lead to more clicks, calls, and, ultimately, customers.
Secondly, GMB reviews boost the perceived credibility of your landscaping business. When potential customers see that others have had positive experiences with your services, it builds trust, making them more likely to choose your business over competitors. Additionally, GMB reviews offer valuable insights into your customers' experiences and satisfaction levels. Negative comments raise red flags about areas needing improvement, while positive comments highlight what you're doing right.
Finally, responding to GMB reviews, both positive and negative, allows you to show your dedication to customer satisfaction and service quality. It sends a strong message to potential customers that their opinions matter and that you're committed to solving any issues that may arise.
In summary, Google My Business reviews play a monumental role in your local SEO strategy. They enhance your online visibility, boost credibility, provide valuable customer insights, and offer an ideal platform for customer engagement. Prioritizing the generation and management of GMB reviews can give your landscaping business a significant edge in the competitive local market.
Local Link Building for Landscapers

Local link building is another crucial aspect of local SEO for landscapers. It involves acquiring backlinks (links from other websites) that point to your site, bolstering your online visibility and reputation.
The first step in local link building is creating quality content that others find valuable enough to link to. This can create content can be blogs, infographics, or informative articles on landscaping topics. Participating in local events and sponsorships can also provide opportunities for valuable backlinks from local organizations' websites.
Secondly, consider listing your landscaping business in local directories. This not only gives your business additional exposure but also generates local backlinks that Google and other search engines view favorably.
Next, leverage social media platforms. Regularly posting engaging content related to landscaping services can encourage shares and result in more backlinks.
Another effective approach is to collaborate with other local businesses or bloggers for guest posting. This allows you to tap into their audience while generating quality backlinks.
Finally, remember to monitor your backlinks regularly to ensure you maintain a healthy link profile. Use SEO tools to keep an eye on your backlinks and remove any that are low-quality or irrelevant.
In summary, local link building, when done right, can significantly improve your local SEO efforts. It can amplify your online visibility, build credibility, and ultimately lead to higher rankings in local SERPs.
The Importance of Local Citations for Landscapers
Local citations are a noteworthy component of local SEO for landscapers, playing a crucial role in improving your business's online visibility. A local citation is any online mention of your business's name, address, and phone number (NAP) on different web platforms such as local business directories, websites, or social platforms.
Foremost, local citations help improve your business visibility on local search engine marketing results. When your NAP is consistently listed across various platforms, search engines gain confidence in the accuracy of your business information, thus improving your ranking in local search results.
Secondly, local citations contribute to your business's credibility. Consistent and accurate citations demonstrate to both search engines and potential customers that your landscaping business is legitimate. Moreover, local citations can serve as a source of free advertising. By appearing in various directories and websites, your business information reaches a wider audience, heightening the chances of prospective customers finding your services.
Lastly, it's essential to ensure that your local citations are accurate and consistent across all platforms. Inconsistent or incorrect NAP can lead to confusion for both search engines and potential customers, negatively impacting your SEO efforts and potentially losing customers.
In conclusion, local citations are a pivotal part of local SEO for landscapers. By ensuring consistency and accuracy in your business's NAP across various online platforms, you can improve your local search ranking, bolster your business's credibility, and reach more potential customers.
Monitoring Results in Local SEO for Landscapers
Keeping an eye on the results of your local SEO efforts is extremely important for the growth and success of your landscaping business. As the saying goes, "What gets measured, gets managed." Monitoring your results allows you to understand how well your SEO strategies are working and identify areas for improvement.
It's essential to monitor key metrics such as organic traffic, keyword rankings, click-through rates, and conversion rates. These metrics can provide insights into how effectively your website is attracting and engaging with potential customers. By regularly tracking these metrics, you can make data-driven decisions to optimize your SEO strategies and improve your overall online performance.
Various tools can assist you in monitoring your local SEO results. Google Analytics is a free and comprehensive tool that can provide valuable insights into your website's performance. You can track metrics such as the number of site visitors, the pages they visit, and how long they stay on your site.
For keyword ranking, tools like SEMrush and Ahrefs can be beneficial. They help you understand where your website ranks for specific keywords in search engine results, allowing you to fine-tune your SEO strategies. Google My Business Insights is another useful tool that provides data about how people find your business on Google, what actions they take, and how they interact with your listing. It's particularly valuable for local SEO because it allows you to see how well you're engaging with local customers.
In conclusion, monitoring results is a crucial aspect of local SEO for landscapers. It enables you to optimize your strategies, improve your online performance, and ultimately grow your business. Using effective tools can make the process even more efficient and insightful.
How We Can Help With Local SEO for Landscapers

At our agency, we specialize in providing targeted local SEO strategies to help landscapers like yourself increase visibility, attract more customers, and grow your business. Our team of SEO experts utilizes a holistic approach that combines various elements of local SEO, including link building, local citations, Google My Business (GMB) optimization, and results monitoring.
We start by producing high-quality content tailored to your landscaping services and local customers. This content not only enhances your website's relevance and trustworthiness but also attracts quality backlinks.
For local citations, we ensure your business information is accurate and consistently listed across various online directories and platforms. This strategy not only improves your online visibility but also bolsters your business's credibility.
We also understand the importance of Google My Business in local SEO. Our team will optimize your GMB listing by ensuring that your information is complete, accurate, and optimized for your target keywords. We'll also help you take full advantage of GMB features such as posts, photos, and customer reviews to enhance your online presence and interaction with customers.
Lastly, we believe that an effective SEO strategy is one that's continuously refined and improved. We equip you with the tools to monitor key metrics such as organic traffic, keyword rankings, and conversion rates. Our monthly reports provide insights into your SEO performance, identifying areas of strength and opportunities for improvement.
All our strategies are aimed at one thing: putting your landscaping business on the digital marketing map and helping you attract more local customers. So if you're ready to grow your landscaping business with local SEO, we're here to help.
Conclusion: The Overall Impact of Local SEO for Landscapers
Implementing a comprehensive local SEO strategy for your landscaping business can have a transformative impact on your online presence and overall business growth. From building high-quality backlinks and maintaining accurate local citations to regularly monitoring your results and optimizing your strategies, each aspect plays a significant role in enhancing your visibility in local search results. Notably, Google My Business serves as a central hub for your local SEO efforts, connecting you more effectively with your local customer base.
By diligently investing in these SEO practices, you stand to gain increased online visibility, credibility, and customer engagement, which translates into more inquiries, leads, and, ultimately, business growth. However, it's essential to remember that SEO is a marathon, not a sprint. Consistency, patience, and adaptability in the face of search engine algorithm changes are key. Over time, your steadfast commitment to local SEO will fortify your online position, making your landscaping business a preferred choice for customers in your local area.
Frequently Asked Questions about Local SEO for Landscapers
Q1: How long does it take to see results from local SEO?
A1: Local SEO is a long-term investment and results usually don't come overnight. It typically takes around three to six months to start seeing significant improvements in your rankings and traffic. However, this may vary depending on your current online presence, the competition in your area, and how aggressive your strategy is.
Q2: What is a Google My Business listing, and why is it important for my landscaping business?
A2: Google My Business (GMB) is a free tool provided by Google that allows businesses to manage their online presence across Google's various platforms. A well-optimized GMB listing provides potential customers with essential information about your business (like your address, operating hours, and customer reviews) directly in the search results. For local businesses like landscaping services, it can greatly enhance your visibility in local search results.
Q3: Can I do local SEO for my landscaping business myself?
A3: Yes, it's possible to handle local SEO on your own if you have the time and the willingness to learn. However, local SEO can be complex and time-consuming, involving various tasks such as keyword research, content creation, link building, and analytics monitoring. Many landscaping businesses opt to hire a professional SEO agency to save time and ensure their SEO efforts are effective.
Q4: How do I track the success of my local SEO efforts?
A4: Tracking the success of your local SEO efforts typically involves monitoring key metrics such as organic traffic, keyword rankings, click-through rates, and conversion rates. Tools like Google Analytics, SEMrush, Ahrefs, and Google My Business Insights can provide valuable data to help you understand the effectiveness of your strategies.
Q5: Can local SEO help me get more clients for my landscaping business?
A5: Absolutely! Local SEO helps improve your visibility in local search results, making it easier for potential customers in your area to find and contact your business. By aligning your SEO strategy with the services you provide and the areas you serve, you can attract more relevant, high-quality leads that are more likely to convert into customers.