An ecommerce platform is a software solution that helps businesses to sell products and services online. When choosing an ecommerce platform, it is important to consider several factors such as the platform's usability, scalability, security, and integration with other ecommerce platforms for SEO, tools and services.
From an SEO (Search Engine Optimization) perspective, it is also important to consider the ecommerce platform's SEO ability to optimize content and technical elements for search engine results pages. A good ecommerce platform for SEO should have built-in SEO features, such as customizable page titles and meta descriptions, and the ability to create custom URLs for products and collections. It should also be mobile-optimized for consumers to access your ecommerce website from their smartphones.
In this context, the best ecommerce platform from an SEO point of view is one that helps businesses improve their search rankings and drive traffic to their online stores. In this article, I have listed the best eCommerce platforms from an SEO point of view along with their special features and drawbacks.
Features to Consider When Picking the Best eCommerce Platform from SEO Point of View
1. Keyword Rich URLs
When you are looking for the best eCommerce platforms to start your online business, pick the one that supports static, keyword-rich URLs.
Learn more about this in How to Choose a Web Hosting
2. Page Title
The page title is one of the most important SEO elements on any page. Make sure your eCommerce platform allows you to edit individual page titles for all pages on your online store. Some eCommerce platforms only allow you to edit product page titles but not category page titles.
3. 301 Redirects
Some eCommerce platforms delete pages when the products are discontinued, out of stock, or when categories are changed. Therefore, look for the best ecommerce platform that sets up 301 redirects. It redirects the visitors and links juice from the deleted pages to the new pages.
4. Canonicalization
Canonical website URLs ensure that the content ranks and indexes so users can view it using multiple URLs.
From these multiple URLs, the one with <link rel="canonical" href="" /> is the primary version which prevents duplication of content and consolidates link juice to the primary URL.
5. Search-Friendly Navigation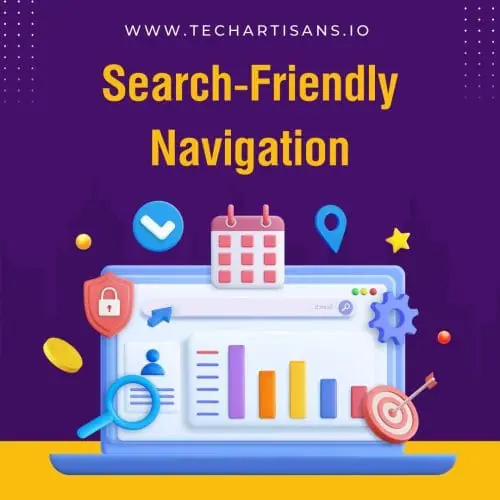 The best ecommerce platform for seo supports an easy navigation structure so it's easier for visitors and search engine results to move around your ecommerce website. Check if your eCommerce platform meets the following SEO criteria for an easy navigation structure:
You don't need Flash and JavaScript to navigate the ecommerce site.
Duplicate links are kept to a minimum.
Primary navigation links are text instead of images.
You can edit navigation menus at the individual link level.
6. Taxonomy Options
Well-organized category taxonomy improves navigation of your site which in turn improves SEO so pick an eCommerce platform that allows you to optimize pages with branded keywords.
7. Automated XML Sitemaps
An XML sitemap makes your online store more crawlable and ranks it higher on search engines. It also helps Google to locate, crawl and index new pages faster. Therefore, the best eCommerce platform for seo generates XML sitemap automatically.
Best eCommerce Platforms from an SEO Standpoint

Keep in mind that the best eCommerce platform for you depends on the specific needs and goals of your business. Make sure you do some research and compare the features and capabilities of these ecommerce platforms to find the one that's right for you.
1. Shopify

Customizable Design: Shopify offers a variety of templates, themes, and design tools to customize the design of your store.
SEO-Friendly Features: This eCommerce platform has several built-in SEO-friendly features including customizable page titles and meta descriptions, and the ability to create custom URLs for your products and collections.
Mobile Optimization: Its stores are optimized for mobile devices, so your store will look great and function smoothly on smartphones and tablets
Product Management: It provides tools for managing your products, including the ability to import and export large quantities of products, set up variants (such as different sizes or colors), and track inventory.
Order Management: It includes tools for managing orders such as the ability to process payments, track shipping, and send automatic order confirmation emails.
Customer Management: You can track customer information and activity, create customer accounts, and send targeted marketing emails.
Marketing and Advertising: There is a range of marketing and advertising tools, including email marketing, social media integration, and the ability to create discounts and promotions.
Integrations and Apps: You can integrate a wide range of apps with your Shopify store.
Security: It is a secure ecommerce platform that uses encryption to protect customer data and ensures that all transactions are secure.
Support: Shopify provides 24/7 customer support via phone, email, and live chat, as well as a wealth of online resources and documentation.
For related information, check out Best Web Design Software Tools
2. BigCommerce

Unique URLs: BigCommerce gives a unique URL to each page on your online store. It ensures that there is no duplicate content issue.
Optimized URLs: BigCommerce auto-populates with SEO-friendly URLs for all pages including product and category pages. It also has an option for you to edit URL settings.
Microdata: This eCommerce platform builds Microdata or snippets automatically with information like pricing, ratings, brand, and stock levels for the product pages to improve search engine rankings.
CDN: BigCommerce uses its unique Content Delivery Network to improve the site speed of your online store for search engines and shoppers.
301 Redirect and URL Rewrites: The auto-populating URL feature of BigCommerce adjusts the URL if you rename any product. It redirects the old URL to the new one. This feature helps search engines understand the changes you make within your online store.
SEO Apps and Integrations: BigCommerce can easily integrate with other apps and websites such as Google, eBay, Amazon & Walmart Channel Cloud. These integrations help your online store make a greater impact worldwide opening new sources for your revenue stream.
Further details can be found in BigCommerce vs WooCommerce: Which One is Better?
3. WooCommerce

WooCommerce is a free eCommerce plugin for WordPress sites. It helps you build and manage online stores with ease. However, some downsides of this plugin are that its more advanced extensions are proprietary and you have to install other WordPress plugins to use more seo tools including marketing features.
For more on WooCommerce, read 16 Benefits of WordPress Websites
Separate Plugins for SEO Features: This is a major drawback of this eCommerce platform. Although it has some basic SEO features, you will have to install separate plugins to use more advanced SEO functions.
Free: The plugin WooCommerce is free but it works with WordPress websites for which you have to buy domain name and hosting.
Design Options: There are a number of design options. You can either use built-in WordPress themes or customize one according to your preferences.
Security: WooCommerce is more susceptible to security threats as it doesn't receive regular security updates.
Unlimited Capacity: You can upload an unlimited number of products and categories, have an unlimited number of customers and orders, an unlimited number of staff accounts, unlimited bandwidth, file storage, a number of sales channels, coupons, product options, product reviews, and abandoned cart recovery emails.
Support: It has an active community of developers and users who provide assistance if you face any problems while using this eCommerce platform.
4. Magento

Faceted Navigation: Magento ecommerce sites face a major issue of faceted navigation which creates crawling and indexing problems. The pages in faceted navigation either sort or decrease existing products, these pages cause duplicate content problems. To tackle this problem and control the crawl of faceted navigation, take the following steps:

Find the low-quality, indexed pages with an audit from the faceted navigation and remove them from the index.
Check the log files to see if any low-quality pages are getting crawled and block it through the robots.txt.
Allow only those pages to get indexed that have high search potential.

Canonical Tags: Magento site's canonical tags won't adjust themselves for product and category pages by default. You will have to make sure that product and category pages have self-referential canonical tags to show the crawlers that these pages should be ranking well. You will have to fix canonical tags in vanilla Magento.
Robots.txt: Magento allows you to configure the robots.txt file to limit how many pages your website search engine crawlers crawl. It is crucial if your site has a faceted navigation that allows users to select from different attributes.
Sitemap.xml: Sitemap.xml files guide Google through all your site's key URLs and help Google find important URLs on the site regardless of the site's architecture. Magento creates a sitemap.xml file in its default settings which saves you time and extra effort.
JavaScript Rendering: Magento utilizes JavaScript to load key content on the store which makes Google perform a two-step indexing process; one for initial HTML and one for JavaScript. Therefore, you will have to check if the elements that are loaded through JavaScript are indexing or not.
URL Paths: This eCommerce platform will add the extension ".html" in the end of the pages' URLs.
302 Redirects: Magento redirects users to the correct destination even if a user doesn't type the exact URL which improves user experience. Magento does that with 302 redirects instead of 301 redirects.
See SEO Principles and Fundamentals for more on this topic.
5. Salesforce Commerce Cloud

Commerce Cloud Digital: Commerce Cloud Digital allows you to present your eCommerce store on social media so you can reach out to more people. Moreover, you can build your brand app, reduce cart abandonment, and optimize mobile payment to improve user experience on mobile.
Storefront Reference Architecture: This website builder is fast and easy to use for making customized websites. It features embedded digital innovation technologies, pre-designed wireframes, and valued integrations for customizations to help build your website successfully.
Commerce Cloud Endless Aisle: It allows you to unify your shopping channels which makes it easier for you to track sales on all your ecommerce platforms. You can provide your team members access to customer databases, personalize customer experiences, and information on online inventory. This inventory allows your customers to create a wishlist with desired items.
Order Management: With Salesforce Commerce Cloud, you can optimize the process of payments, deliver to customers across the globe and manage cancellations and returns.
eCommerce Platform: It features several templates, commerce APIs, and developer tools to build eCommerce websites without knowledge of coding. You can also connect your commerce data across all digital channels and get data-driven insights about customers' behavior.
Commerce Portals: It offers several loyalty programs to build long-term relationships by encouraging and engaging your customers. You can perform content marketing and brand updates via newsletters, communities, and social media.
For more on leveraging social media, read How to Create a LinkedIn Business
6. OpenCart
Detailed Dashboard: The admin dashboard of the OpenCart website builder provides insight into the overall performance of your website. It displays sales and Google Analytics. You can customize the reporting tools to track activities and improve seo strategy for your ecommerce business easily.
Team Members: You can provide controlled access to your team members working on your online store. This protects your eCommerce store from potential mishaps.
Loyalty Programs: OpenCart incorporates discounts, special offers, and coupons to attract customers and improve user experience.
Unlimited Categories and Products: With OpenCart, you can list all your products on your online store without having to pay extra. Moreover, it allows you to organize your products in an unlimited number of categories.
SEO Friendly: This eCommerce platform highlights which content and changes are required to improve the ecommerce SEO platform of your online store. It makes the content creation and management process a lot more straightforward. Furthermore, the online stores on OpenCart are mobile responsive by default which maximizes the SEO
Payment Methods: OpenCart can integrate various payment processing providers without any additional transactional fee. It provides your customers with a wide choice of how they want to process payments.
Scalability: This eCommerce platform allows you to scale your online store smoothly with various extensions to improve your store. These extensions can add ecommerce functionality, design, and ecommerce operations of yours.
Discover more about web performance at Web Performance Best Practices
7. PrestaShop

Products: PrestaShop allows you to create products easily and configure their advanced ecommerce features and values. You can create packs of products with variants from a list of attributes. Also, you can sell digital products. You can set a minimum limit to purchase your products if you are selling in bulk. Moreover, you can organize your products in an unlimited number of categories and subcategories.
Run Stock: PrestaShop allows you to create suppliers and manufacturers and associate them with products. Also, you can do inventory management and display the message of your choice for out-of-stock products
Customization: You can choose from different payment and shipping methods, and determine the pricing of the shipping method you choose. It allows you to apply for shipping carriers and run geographical delivery zones. With PrestaShop, you can also enable SSL, define the maximum dimension of the packages and set your online store as a catalog.
Content & Navigation: PrestaShop makes it a lot easier to organize your products in your store, configure the display of the products, manage filters, sort order and pagination of the products. You can choose from different display modes and layered navigation to display results from the products list.
Checkout: PrestaShop allows you to configure the one page checkout. You can display a summary of the cart before the customer validates it. It makes the checkout process a lot easier for customers by navigating and guiding them at every step. It displays a confirmation page with all the details of the order when the customer checks out.
Create Special Offers: PrestaShop offers a lot of options to upsell your products on your online store. It allows you to configure coupons, pick discount modes, make special offers, create price rules, free shipping, etc. Also, it helps you promote specific products, suggest products, display complete product pages with CTAs, promotional content and cross selling.
Further insights can be found in Template vs Custom Website Design
8. 3dcart

Payment Options: 3Dcart supports more than 160 payment options which helps you capture more sales from your conversion funnel.
Theme Templates: It features over 90 free templates for you to choose from to develop your professional-looking website. Moreover, you can switch from theme to another to have all your content reformatted.
Analytics: 3Dcart provides various metrics in several areas such as marketing, inventory, revenue, business topline, etc.
SEO: It offers a strong focus on ecommerce SEO platforms with prompths that are useful and allow you to make changes throughout the site. It has pop-ups so that you don't forget to fill in tags and other text blocks to strengthen your SEO game.
Social Links: 3dcart allows you to embed your social media accounts in your website which makes it easier for customers to visit your social media.
Automated Emails: It is an important touchpoint in email marketing. 3dcart helps you send automated emails to your existing and potential clients to get their attention. You can pick the email delivery times and content within 3dcart.
9. Volusion

Customization: Volusion offers multiple themes that are responsive and professional-looking that adapt to any device your customers use.
Display Options: It allows you to fully merchandise your products by showcasing multiple photos and details everything that's great about what you offer.
Logo and Favicon: Volusion has built-in promotional tools that allow you to showcase your branding across the online store in a visual manner.
Category Pages: There are several category tools which help you create subcategories, manage SEO, upload images, edit product display characteristics and more.
Homepage Slideshow: You can highlight discounts and products right on your homepage with Volusion's free slideshow feature.
Search Functionality: The search functionality in your online store allows your customers to locate products easily and quickly.
HTML/CSS Editor Access: You can design your online store by writing your own HTML and CSS and take site design even further.
10. Spree Commerce

Mobile Friendly: Spree online stores are responsive with prebuilt components and powerful plugins. It also works well with a progressive and custom storefront which works well even when connection is poor. You can simplify maintenance and development of your online store with the right approach using components.
Customization: There are various fully functional themes that are designed keeping in mind all use cases for the best user experience. It has pre-built integrations with Next.js Commerce and Vue Storefront. Moreover, it serves as an Ecommerce engine and admin dashboard for mobile apps.
Search Functionality: Spree uses a powerful search engine; Elasticsearch, to provide amazing user experiences. It provides suggested search results which allows you to upsell easily by suggesting products.
Personalized Experience: It suggests products according to the individual's user's interests. It gives fine-tune product listings to highlight products relevant for an individual user based on their shopping history. Moreover, it features a wishlist and sends out promo offers for wishlist products and alerts about products coming back in stock.
Product Personalization: Spree allows users to add gift packaging, personal notes and recipient shipping address to send orders as a personal gift. Your customers can personalize their orders with their initials or names to make them special.
Payment Methods: Spree supports over 144 payment gateways. It supports country-specific payment methods in more than a hundred countries.Spree also allows installment payment plans for online shoppers combining with Afterpay.
11. Lightspeed

Inventory: Lightspeed's Import tool allows you to transfer your Excel or CSV files of your items from another platform. Also, it lets you order stock directly from the POS so you can find products from the biggest vendors in their pre-loaded catalogs.
Analytics: Lightspeed reports to your online store's retail and Google analytics, real-time data, accounting integrations, employee tracking, exportable reports and remote reporting. You will have access to updated data in real time no matter where you go so you have a complete knowledge of how your business is doing.
Mobility and Cloud: The mobility and cloud feature of Lightspeed helps you to; bring your POS where your customers are, customize your point of sale system, show images and descriptions of your products, train your staff fast, accept payments on the sales floor with a 100% secure system, and check the inventory count and the status of the coming stock from any device.
Multi-Store: Its Multi-store feature allows inventory tracking, reporting, send gift cards from, centralise purchasing, transfer and centralize customer data from across all your locations. It allows you to get an overview of your online stores and compare their performances.
Integrated Payments: Lightspeed offers your customers several flexible payment options. It integrates mobile payments, payment methods, and refunds. It also has EMV compatibility which allows customers to insert their card without having to worry about it.
12. Wix

Templates: Wix features more than 500 professional templates so that you can design your store exactly how you want. You can also customize your storefront, cart and checkout to improve your customers' shopping experience. It has over 1 million free hd images that you can use on your website to catch customers' attention.
Mobile-Optimized: It has an advanced mobile editor so your customers can easily shop from your store on any device.
Multichannel Sales: Wix is a self hosted ecommerce platform. With Wix, you can build and host your online store and expand its reach with several sales channels like Google Shopping, Instagram, eBay, Facebook and more right from your dashboard.
Global eCommerce: Wix allows you to expand your business to an international audience by translating your store in more than 90 languages, creating local subdomains and seo optimized ecommerce store.
13. Weebly

Automated SEO Design: Weebly automatically designs your ecommerce site with search engine optimization in mind. It has all the essential features that help with SEO the website design.
Sitemap: The sitemap is one of the features that is included to help search engines crawl your website and find all your content.
HTML Formatting: Weebly's HTML formatting is SEO-friendly, which means search engines can easily index your website.
Meta Descriptions and Responsive Design: Meta descriptions are essential to SEO, and Weebly includes them in their website designs.
Responsive Design: Responsive design is another feature that helps with SEO, ensuring your website is optimized for all devices. With responsive design, it will improve site speed on all devices, essential for SEO.
Alt Tags: Alt tags on images are one of the advanced settings available, and they help search engines understand what an image is about.
Conclusion
In conclusion, the right ecommerce platform for SEO can help businesses improve their search rankings and drive traffic to their online stores. When choosing an ecommerce platform for SEO, it is important to consider factors such as the platform's usability, scalability, security, and integration with other tools and services.
For more on effective web design, see Website Design Best Practices
It is also important to consider the platform's built-in SEO features and mobile optimization. By selecting an ecommerce platform that meets these criteria, businesses can improve the visibility of their online stores and reach a wider audience of potential customers.